Who's Online:
There are currently 0 users and 73 guests online.
Net Impact's TAKE THE PLUNGE: How to Become a Social Intrapreneur
Submitted by faunasamuel on Wed, 02/12/2014 - 5:31pm
Event Date:
Wednesday, February 26, 2014 -

6:00pm

-

8:00pm
Event Location:
Paccar Hall, University of Washington, Room 292
4277 NE Stevens Way
Seattle
,
WA
98195
United States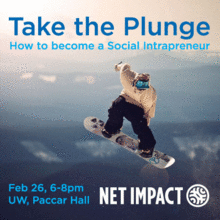 TAKE THE PLUNGE: How to Become a Social Intrapreneur
Do you find yourself sitting in meetings daydreaming of:
- More eco-friendly ways to do things at your workplace?
- How to engage your colleagues in a community outreach project?
- Where to get the support and resources you need to launch a waste reduction program at your organization?
If so, then you just might be a social intrapreneur, destined to use the power of business to increase the social, environmental and financial bottom line for your organization.
Starting a change program within your organization can seem overwhelming, especially at a company that lacks a corporate citizenship or stewardship agenda. This Net Impact Seattle program will help you take the plunge. You'll learn practical tools to identify, launch and complete a successful project from experts in the burgeoning field of social intrapreneurship. So what are you waiting for?
<Social intrapreneur, noun 1. Someone who works inside their company or organization to develop and promote practical solutions to social or environmental issues.>
EVENT DETAILS
Date: Wed, Feb 26
Time: 6:00 - 8:00pm
Location: Paccar Hall, Room 292, University of Washington
Learn more about the event and Net Impact Seattle here.
Location
Paccar Hall, University of Washington, Room 292
4277 NE Stevens Way
Seattle
,
WA
98195
United States
Bookmark/Search this post with